Cozycot Beauty Workshop Event!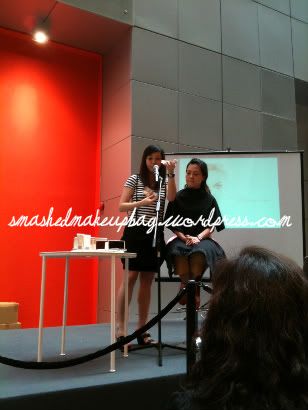 Yes, I was there but drats, I didn't manage to get enough pictures! Were you there today?! -waving-
Organized by the lovely crew at Cozycot, the talks were actually really good today especially because they included stuff on application and highlighting!
But but but, you know what? I left my RMK door gift at the hairdressers! -crying- I can't believe I did that! -kicking myself-
Here's a quick rundown of the things I remember: (From RMK)
1) Use more base than foundation (That makes sure that your skin will be able to breathe)
2) Remember to warm your concealer up between your finger and palm on the other hand before application so you reduce tugging~
3) When using concealer on your eye, always go from outside in so that the excess concealer won't end up caking on your skin!
4) Use concealer down your nose bridge to make it look higher!
5) Put lesser foundation on your forehead than on your cheeks so that you'll reduce the "Large forehead" effect
From Lancome:
1) You can actually use their mascara to create crazy curled lashes… -bewildered-
==========================================================
And for the rest of the Lancome tips, I'll be loading them for my next review!
(Psst, you so missed out on their liquid foundation gift! >_< They had it in the door gift!)
Here's a heads up for you babe, I'll be doing a review on the gorgeous Lancome Virtuose Precious Cells mascara really soon so hang tight okay? =D